Strategic Alliance & Partnership
To strengthen deliver our vision and mission, strategic alliance and partnership with external partner are a smart way.
And as the company who having moto -Caring For Health- we have commitment to deliver excellent products to the customer.
Leverage commercial platforms by obtaining marketing right with third party.
PT. Graha farma already have partnership with some other company as follow:
Sanquin NL
Sanochemia
Kwang Dong
PT. Osadha Graha Sejahtera
PT. Indofarma Global Medika
PT. Penta Valent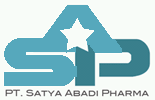 PT. Satya Abadi Pharma